Biography
Trained in planning and architecture, Ann Forsyth is a professor of urban planning at the Harvard Graduate School of Design. From 2007-2012 she was a professor of city and regional planning at Cornell. She taught previously at the University of Minnesota, directing the Metropolitan Design Center (2002-2007), Harvard (1999-2002), and the University of Massachusetts (1993-1999) where she was co-director of a small community design center, the Urban Places Project. She has held short-term positions at Columbia, Macquarie, and Sydney Universities.
Ann Forsyth's biography and key interests are described on her faculty page at Harvard. Her research and publications are described elsewhere on this site. The Design for Health website provides more information about individual projects.
Affiliations
Forsyth is the Director of the Masters in Urban Planning program at Harvard and co-director of the Healthy Places Design Lab. Forsyth is also an Affiliated Faculty at Harvard's Joint Center for Housing Studies, the Harvard Center for Green Buildings and Cities, and the Harvard Center for Population and Development Studies, and a Faculty Associate at the Harvard University Center for the Environment and the Weatherhead Center for International Affairs. She has directed a number of longer-term projects described under reflective practice on the research page.
Publications, Editorships, and Web Sites
She is the author or co-author of five books and over 180 refereed and magazine articles, chapters, monographs, edited collections, and book reviews; in addition, she has written dozens of professional reports, reprints, and works in other media.
Forsyth has been review editor of the Journal of Planning Education and Research, a co-editor of Planning Theory journal, and a co-editor of Progressive Planning magazine. She is currently on the editorial boards of the Journal of the American Planning Association, Journal of Transportation and Society, Urban Design International, Journal of Transport and Land Use, Journal of Planning Education and Research, Journal of Urban Design, and Journal of Architectural and Planning Research. She has been involved with making several websites. She has a Planetizen blog focused on advice for planning students and beginning planners.
For more information about these sites see the section on Other Media.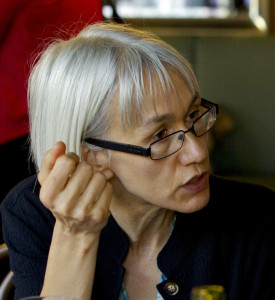 Awards
Forsyth has won over sixty awards, citations, named lectureships, and fellowships for individual and collaborative professional and research work. These include national awards for professional and research projects from the American Planning Association (APA), American Institute of Certified Planners (AICP), American Society of Landscape Architects (ASLA), Environmental Design Research Association (EDRA), Planning Institute of Australia (PIA); and state level awards from APA, ASLA, and PIA. Publications have received awards and honorable mentions, and have been listed as official finalists or in top ten lists by the Association for European Schools of Planning (AESOP) Best Paper Prize, PIA, Australian Peter Harrison Memorial Prize, Journal of the American Planning Association, and Planetizen, as well as state-level awards from the APA, PIA, and ASLA.
Projects and publications receiving at least four awards, commendations, or official finalist statuses have included both individual and collaborative work:
The advocacy work of the Urban Places Project (UPP, 1995-2000)
A specific UPP project, the YouthPower Guide communicating work by El Arco Iris in Holyoke (1998-2000)
The publications and programs of the Metropolitan Design Center (that Forsyth directed in the mid-2000s)
The Corridor Housing Initiative's early work (2003-2007), a collaborative MDC project led by the Center for Neighborhoods and now by LISC; and
Professor Forsyth's research has been funded by such groups as the Robert Wood Johnson Foundation, National Institutes of Health, Federal Highway Administration, USDA Forest Service, U.S. Department of Housing and Urban Development, Lincoln Land Institute, and Graham Foundation. Forsyth has also been a Fulbright scholar.
Publications
Academic and Professional Publications
Other Media
Tools, Manuals, and Methods